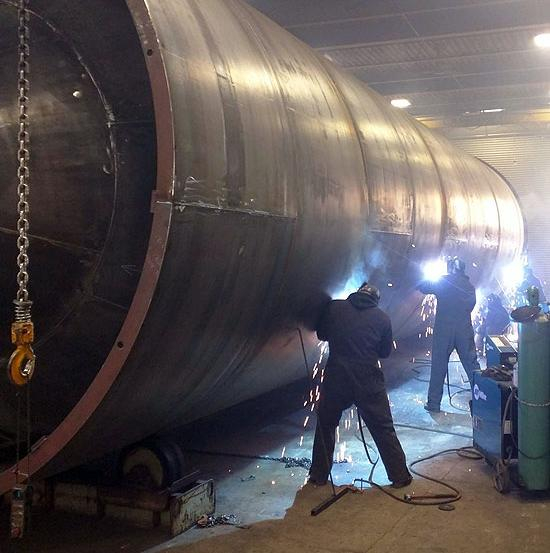 Employment Opportunities
Thank you for visiting our Careers Page – we appreciate your interest in learning more about the employment opportunities available with our company!
We're committed to building a positive culture in which safety, quality, and customer service are a top priority. We are proud of our diverse team of highly skilled and talented employees who help our company succeed.
WELDER-FITTER LEAD HAND
We are currently looking for an experienced welder-fitter to join our team and take on a leadership position in our growing company.
Once successful applicants complete a probationary period, they are eligible for enrolment in the company benefits package that includes extended health and dental, life insurance, and disability. Smith Steel & Fabrication also offers profit sharing plan, periodic bonuses, and an annual safety equipment allowance.
If you,
Have at least 10 years of experience as a Fitter / Fabricator.
Are now or have previously been a CWB certified welder.
Have experience in custom fabrication.
Are dedicated to quality and safety.
Apply today
Duties and responsibilities will include:
Fitting and welding of steel and stainless-steel round vessels.
Layout and fitting of pipes, flanges doorways, etc.
Welding of vessel seams and various components using MCAW / FCAW and GMAW.
Using basic shop equipment, cutting torches, manual plasma cutter, mag. drill, angle grinder and Ironworker, etc.
This work requires standing for long periods of time and lifting.
The following skills and experience would be an asset.
Operation of a manual Press Brake.
Operation of rolling equipment, Plate roller or Angle / Flat bar roller.
Ability to do or learn practical shop math involving calculations of diameter, circumference and degrees.
Team leadership
Ability to work well independently, and as part of a team
Additional Information
Full-time hours 44 hours/week.
Pay will range with experience between $24.00-$28.00/hour.
Persons with disabilities who need accommodation in the application process may email us for assistance.
We thank all applicants for showing an interest in this position. Only those selected for an interview will be contacted.