Enjoy Cooking as Much as you Enjoy Eating!

Our all steel welded BBQ smokers have been designed in house based on years of smoking experience with the goal of optimizing the cooking (and of course the eating!) experience. A treat for your senses ..there's nothing like the smell and taste of food cooked over an open fire.
We wanted to build a BBQ smoker that was simple yet high quality and so our smokers are hand made in our shop, welded with sturdy ¼" mild steel or we can build them in stainless steel. All our smokers are accessorized with stainless steel temperature gauges and solid maple wood handles and can be finished with a splash of colour.
Built for Slow Smoking and Quicker Grilling
Our BBQ smokers are dual purpose - built for slow smoking as well as quicker grilling over fire! Sear steaks or other meats at high temperatures directly on the firebox grill, warm sauces on the built in warming plate, grill burgers on the BBQ grill or smoke a ham or some fish in the smoking chamber. Experiment with different types of wood, like hickory and cherry. It's up to you and it's easy! Just don't be upset when friends and family don't wait for the food to be put on plates but instead gather around the smoker and grab juicy morsels directly off the grill! Finger licking tastiness!
Standard Sizes or Custom Designed
Our line of wood fired cooking units includes two standard sized smokers (each with a firebox, BBQ area and smoking chamber) as well as a pure barbeque (no smoking chamber). Additionally, we are able to modify the size or design of our standard models or start from scratch and build a fully custom unit to your specifications. Whether you're looking for a vertical unit, a smoker suitable for commercial or hunt camp use, or a backyard reverse flow unit, we have the capability to meet your needs.
Firepit Rings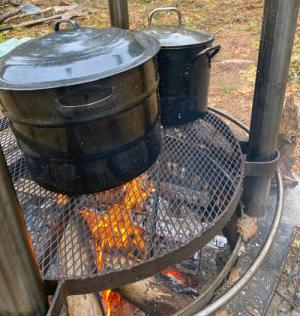 Under starry skies, nothing tops off the day like sitting around a roaring fire. Our line of steel firepit rings are fabricated with the same attention to detail and quality as our smokers and grills. Made with 3/16" steel and built with a surrounding ledge, these rings are perfect for safely containing your fire while looking great and offering a lot of functionality. Use the ledge to warm a pot of stew or a pair of boots…. And for those who want to cook more than smores over the fire, our adjustable grillholder lets you easily move the grill up or down. The firepit ring can be built in the size to suit your needs, with custom cut-outs on top and on the side ledges to personalize the experience. And the custom cover protects the wood and coals from rain or snow when its not in use. It is truly the only firepit ring you will ever need!
---
Features and Options
Features
Handmade from ¼" mild or stainless steel
Racks and hook in smoking chamber
Firebox and BBQ Grill
One 5" and one 3" stainless steel temperature gauge
Flip-down removable shelving
Warming plate on firebox grill
Two ¼" maple wood handles
Options
Additional rack in front of BBQ grill
Stainless steel grills
Black walnut handles
Two 5" temperature gauges
Maple leaf wheels
Colour Paint
Custom Initials/Monogram on firebox
Warming plate on firebox grill
Model
SSS19
SSS15
Material
1/4" steel or stainless steel
1/4" steel or stainless steel
Barrel Diameter
19"
15"
Total Cooking Surface
17 square feet
9 square feet
Height to Top of Cooking Chamber
72"
65.5"
Length
(side to side)
85.75"
61"
Depth
(front to back)
27.25"
20.95"
Vertical Smoking Chamber Grills
3 @ 18" x 19"
3 @ 14" x 15"
Firebox Grill
18" x 20"
14" x 14"
Warming Plate
yes
yes
BBQ Grill
2 @ 18" x 20"
1 @ 14" x 23"
Top Grill
8" x 42"
8" x 24"
Shelving
2 @ 18" x 32.5"
1 @ 10" x 16"
Bottom Rack
18" x 32.5"
14" x 38"
Wood Handles
2.25" diameter
2.25" diameter
Tel Tru Temperature Gauges
1 @ 5" and 1 @ 3"
1 @ 5" and 1 @ 3"
NOTE: All sizes are approximate and due to the handmade nature of the product, slight variations are possible